Brand: Tefal
Type: Air Fryer
Power 1400W
Capacity 4.2L
Touch panel
Adjustable temperature from 80 to 200°C
60 min digital timer
Compact design with XL capacity
Stainless Steel jacketing
8 menus: fries, cutlet, shrimp, cake, pizza, fish and grill
XL Capacity
2 L capacity, up to 6 servings
Frying, Grill, Fry & Roast
With the Easy Fry, you can not only fry but also grill, bake and roast. So you put a surprising dish on the table every day.
Healthier Frying
Little to no oil required * to fry, bake, grill and roast all your favourite dishes. From crispy chickens to chocolate muffins and from crispy fries to delicious shrimp snacks.
Accurate Temperature Setting
The temperature can be set very accurately from 80 ° C to 200 ° C for perfect results every time.
Easy to clean
All parts to be removed can be cleaned in the dishwasher. This provides even more convenience.
8 Automatic Programs
French fries, pork chop, shrimp, cake, pizza, fish, grilling and roasting
Easy To Use
With the large digital control panel, you have all the possibilities at your fingertips with one simple touch.
The Tefal Air Fryer prepares crunchy and delicious ingredients without the use of oil or with minimal use. The Tefal Air Fryer is a healthier solution for everyday dishes. Fry, bake, grill, do it all with your favorite ingredients with little or no oil. Enjoy a variety of dishes with ease thanks to the following 8 automatic menus: Fries, Cutlets, Shrimp, Cake, Pizza, Fish and Grill. The Tefal fryer has a modern design with a stainless steel lid and a large digital control panel.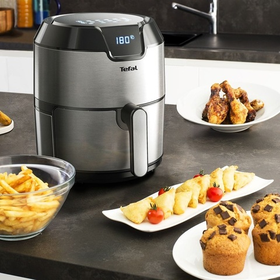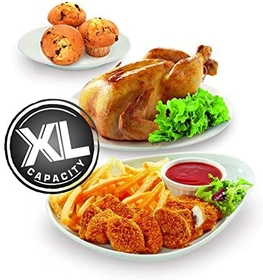 Not only does this Air Fryer include 8 different menus so you can enjoy a variety of dishes, but with this large and powerful Tefal Air Fryer you can make a large portion of food that is enough for you and your family to enjoy.