Brand : Ariston
Washing capacity (kg): 9
Drying capacity (kg): 6
Variable Spin Speed (rpm): 1200RPM
Digital Display
Inverter Motor
Steem | Prewash | Night Cycle | 15min
Digital Motion
Front Load Washer & Dryer
This Ariston freestanding Washer Dryer features: outstanding 9kg washing capacity. Spacious 6kg drying capacity. A fast, resource-efficient 1200 revolutions per minute spin speed.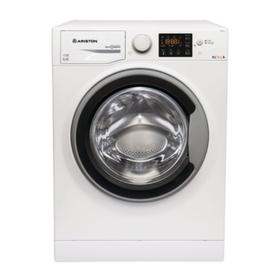 The Inverter motor provides extreme energy efficiency while improving the washing results.Rotation calibration during all stages of the programme improves the detergent's cleaning power.​ The motor's excellent control reduces vibrations at all stages, even during spinning, ensuring greater quietness.
STEAM TECHNOLOGY
Steam Hygiene adds an extra period of steam at the end of a full wash cycle for a deep intensive clean.


Steam Refresh is a dedicated cycle to freshen clothes avoiding washing, saving time, energy and water, removing all unpleasant smells in just 20 min. Steam penetrates deep into fabrics making them slightly damp, reducing a huge part of creases and making garments easier to iron. ​