Brand: illy
21-Count Tin Capsules
Each Tin Contains 21 Capsules Of Illy's Legendary Blend Of 100% Arabica Coffee
Made With 100% Arabica Coffee
Deliver An Intense, Pleasantly Robust, Full-Flavored Coffee
Thick, Velvety Crema That Lasts and Lasts
Work Exclusively with The Francis Francis X7 And X8 Espresso Machines
Illy Iperespresso Capsule System
The Illy iperEspresso capsule system lets you prepare extraordinary espresso and cappuccino at home with ease. Illy's distinctive blend of fine Arabica coffees with a smooth, rich and full-bodied taste is created from the skillful blending of 100% sustainably-grown Arabica beans, meticulously selected from different growing regions around the world. The result is an authentic Italian coffee that is flawlessly consistent, smooth, balanced, and never bitter. These dark roasted coffee capsules work exclusively with the Francis Francis X7 and X8 Espresso machines.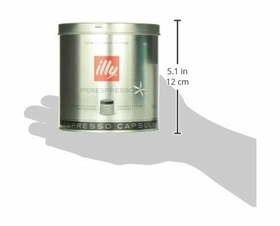 Intense, Robust And Full Flavored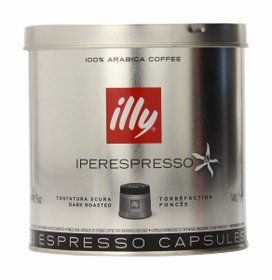 From the moment you note its sweet aroma to the time you savor its perfectly balanced flavor and rich, velvety crema, you'll know you've entered a new era of espresso with iperEspresso. Whichever roast you choose, medium, dark or decaffeinated you will enjoy Illy's legendary single blend of 100% Arabica coffee. Discover for yourself why it is the preferred choice of renowned chefs around the world.
Enjoy A Special Taste At Home
Illy's iperEspresso System is a revolutionary new way to prepare true café-quality espresso at home, thanks to a ground-breaking two-stage extraction technology that creates an extraordinarily smooth, full-bodied and intensely aromatic coffee with long-lasting crema.